Ride to the end of the world
Posted by
Lieven
on Sunday, March 4th, 2018
The Idea
In the summer of 2017, I wasn't really planning on going on holidays: lots of work, already had been on great snowboarding and climbing trips,... But then opportunity struck: I was blocked at work by dependencies that didn't get done in time (as things go in software development).
So I thought: "Where can I get in 9 days if I just keep cycling?"
Since I love the mountains and friends of mine were raving about their recent trip to Sixt-Fer-à-Cheval (which already had made an impression on me when snowboarding in the Grand Massif area) it was an easy choice: I'd try to get to the Alps and take a train back from Genève.
The Plan
The Route
I tried to gather as much information as possible: bought a cycling map of France, browsed through websites like europafietsers.nl, but in the end, it was mostly the combination of the online route planner of cycle.travel and Google Street View that helped me find my way.
The map at cycle.travel has a lot of useful features for cyclists, which made it easy to plan a trip in advance:
Clear indication of national and regional cycle routes and networks
Contour lines and hill shading
Total distance and campground markers along the route, making it easy to split the +900km into manageable days
The route that cycle.travel suggested had 1 weak point: the traverse of the Jura mountains. A large part of it seemed to use the N5, a rather busy road, which didn't look too appealing to me, especially on ascents. When I do the search now, the suggested route seems already a lot better, so someone must've added some data (thanks!). With the help of Google Street View, I found a different route via Poligny, Clairvaux-les-Lacs, Saint-Claude and Gex, which turned out to be beautiful.
Once I was happy with the route, I exported it as a GPX file and imported it into MapOut, an excellent app for iOS, with a lot of the same features as the cycle.travel map, but adding offline capabilities, customisation of the map display (e.g. larger text for better readability while mounted on your bicycle) but lacking a route planner.
If MapOut and Cycle.travel would merge, they'd be the Google of cycling maps. They're that good. For now, I'm happy they have easy import and export capabilities.
The Train
Booking a train back from Genève made sense to me:
a realistic goal, even if I didn't manage to reach my end-goal due to mechanical or physical problems.
direct, high-speed connection via TGV to Paris, then from Paris to Brussels and via regional rail back to Ghent.
Easy, right? Well, not quite. Unfortunately, the part from Paris to Brussels is using Thalys trains, which only allow for bicycles if they're dismantled and packaged in a bike bag or case. Carrying around a bike bag on a trip isn't an option, so I asked SNCF for information on how to get from Paris to Belgium by regional trains. Days later, they responded with a blank "we don't have any information".
By that time, I had already found an alternative route myself:
Geneva - Paris (TGV)
Paris - Arras (TGV)
Arras - Lille (French regional train)
Lille - Ghent (Belgian regional train)
For the TGV segments, you can book a spot for your bicycle in advance. On pretty much all French regional trains, you can just take your bicycle with you for free, and on Belgian trains, it's 5€, no need to make reservations in advance, but the train conductor can just tell you to take the next train. Yay Belgium!
The Gear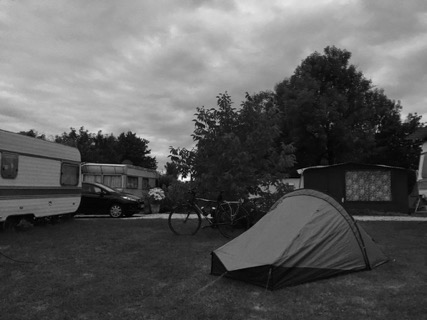 For a weekend trip at the end of May, I had already bought a QuickHiker Ultralight tent, a Forclaz air mattress and sleeping bag from Decathlon. I was pleasantly surprised by the quality, weight (or lack thereof) and ease of use of this camping gear. Not too long ago, this would've cost 4x more.
I had also bought a bike bag at Decathlon back then, and used my Basil Urban Fold Messenger bag, which I use for my daily commute as the second one. But since the weather in July ironically was predicted to be much worse (rain, cold,...) than in May (sunny, almost heat wave), I ordered a pair of more heavy-duty Vaude Aqua Back bike bags. I was not disappointed with the quality, but I did miss the handy compartments of my commute bag. So much so, that I'm considering using it for the next trip, combined with a rain cover.
The tent, my sleeping bag and air mattress all fit in 1 bag, my tools, spare clothes, laptop, USB battery, toiletries, wallet and everything else fit in the other. This also makes sure that during the day, all expensive stuff was in just 1 bag, so I could leave the other one locked and attached to the bike if I went in for a coffee or something.
I only brought 2 cycling jerseys and 2 cycling shorts, washing 1 pair every night and hanging it to dry on my bike bags, which worked perfectly fine, even on rainy days (it rarely rains for an entire day). Other than that, I brought a warm fleece sweater and a fluorescent rain jacket, to keep me warm, dry and/or highly visible.
As for shoes, I used to have mountain bike shoes with Shimano cleats, but never found a good position where they didn't hurt my knees, and after a mechanical failure where I had to walk home for 2 km, I just stopped wearing them. For this trip I ordered a pair of Five Ten Sleuth mountain bike shoes. They have really sturdy soles, yet are comfortable and inconspicuous enough to use as everyday shoes. Unfortunately, I ordered them a size too small and didn't have time to exchange them, so comfort was a little reduced. Will order a new pair for my next trip though.
The Bike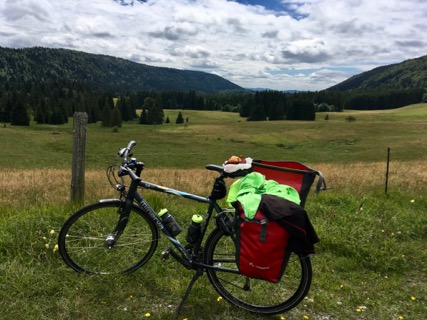 I opted for my daily commute bicycle, a Minerva Subway. My road bike would've limited me to the larger, busier roads and the Minerva has everything a trekking bike should have (bike rack, relatively wide tyres, good LED lights with a hub dynamo, great lock, enough gears,...) while remaining relatively lightweight.
Since this was a spur-of-the-moment thing, I didn't really have time to take it in for maintenance, so I just did a quick cleaning, mounted an extra water bottle cage, pumped up my tyres and that's about it... which turned out to be a mistake.
You see, a trained bicycle technician would've seen my chain and chainring and said "you're not going to ride more than 5km with that, are you?".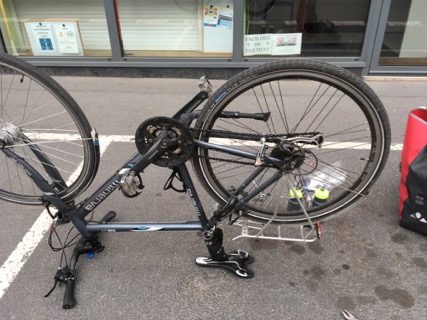 Me? I was still oblivious to the fact that I'd break my chain 2 times - shortening it each time - before I could find a a bike shop. In Ghent, pretty much everyone rides a bicycle, so every neighbourhood has at least one bike shop. In (rural) France? Not so much. The only places you can find them predictably is at... you guessed it: Decathlon (I swear, I'm not sponsored). I had them replace my chain, chainring and gear cables (just in case), which should've made my bike feel brand new, but unfortunately, riding out of the store, my gears immediately started jumping. The technician didn't believe me, so he rode around the parking lot, and sure enough, something was wrong. Turns out my rear hub was a bit crooked and the new chain and chainring would take some time to settle in. With the prospect of the Jura mountains just 100km further down the road, this was a bit unnerving, but sure enough, after a few km, shifting started to get better and better and I didn't have any problems at all. So a big thank you to the technician at Decathlon Dôle!
The Phone
Some people still swear by separate bike computers, cameras and phones, but with iPhones being so capable and powerful, it just makes a lot more sense to me to just use 1 device.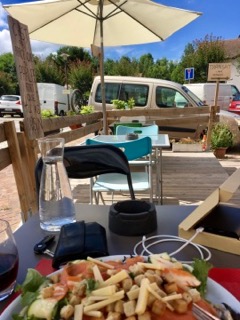 One disadvantage of using just 1 device is that it can run out of battery. I got myself a rather large external battery pack from Jackery, which is even powerful enough to keep a 13" MacBook Pro going over USB-C. It may be a bit to heavy for hiking, but for bike trekking, it was perfect. A quick charge during lunch or coffee breaks, and my iPhone SE could keep up without a problem. I also used it for overnight charging so I wouldn't need to leave my phone outside my tent. I think I only recharged the battery pack itself 3 times during the entire trip.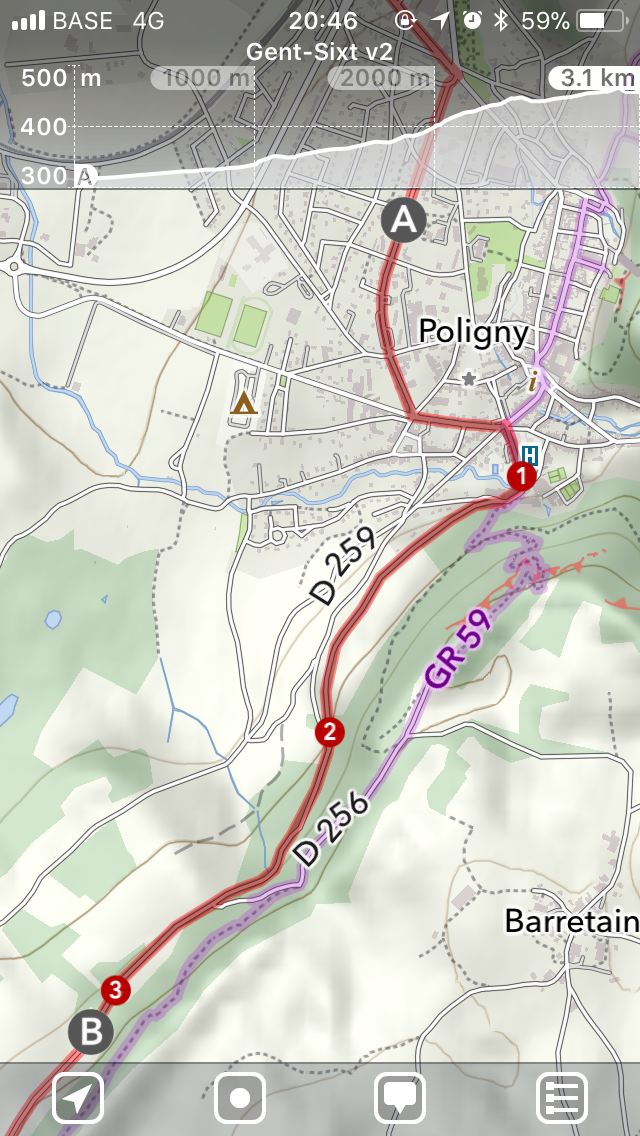 For navigation, I used MapOut, which showed my planned route in red. I don't think it has turn-by-turn instructions, but I don't really like those anyway. Increasing the text size, displaying the Bicycle Network and Tourism Overlay, hiding other layers, was all I had to do to have a very readable and detailed map.
There was 1 case where the cycle path which was chosen by cycle.travel and also displayed on MapOut did not exist yet. Both use OpenStreetMap, and cycle.travel shows a different route now, so I guess it's been resolved.
Other than that, there were some cases where the main roads had much nicer road surface than the French cycle routes, so every now and then, I deviated from my planned route. Having an offline map with lots of detail was super helpful.
A great feature of MapOut is tapping the route, causing it to select the visible part, adding distance annotations and displaying an elevation profile. Super useful for pacing while climbing, or just to do short-term planning ("where am I going to grab lunch?").
I did track my rides with Strava, not because I was going to break any speed records - most of the days I averaged about 16km/h - but it's nice to have a log of the actual route I ended up taking.
On my trip in May, I didn't have a bike mount, and it annoyed the hell out of me to have to stop and check every now and then if I was still on the correct route, so when I got home I immediately ordered a Quad Lock case and handlebar mount.
The Quad Lock is slim yet sturdy and secure, has a nice and easily removed rain cover, and most of all: it's dead easy to mount and dismount your phone 1-handed to quickly take a picture. I've had other bike mounts before, but this one is really top notch.
The Trip
Day 1. Gent - Kluisbergen (45km)
Leaving right after work to ride the first few kilometers along the Scheldt river in strong headwinds. The final ascent to the Kluisberg was a nice first challenge.
Day 2. Kluisbergen - Guise (136km)
All the way to the French border along the Scheldt river, again in strong headwinds. After that, some typical Northern French villages and unpaved roads through the beautiful countryside.
Day 3. Guise - Val-de-Vesle (133km)
Broken chain at the first traffic light, riding through fields where the tractors were larger than the villages, with views of Laon in the distance.
Then, arriving at the canal along the Aisne river, it was clear that the cycle route was unfinished and my only 2 options were to ride along a narrow road with lots of traffic, or cross the first hills of the Champagne region. I chose the hills, which promised some nice views and practice for the real mountains, but then the weather turned, with heavy rain showers and headwind, which made it sometimes difficult to see the beauty of it all.
The descent back to the valley was beautiful and fun, but when the cycle path along the Aisne was again interrupted after a few kms, I gave up and just cycled along a highway to the "zone commercial" on the outskirts of Reims and grabbed a burger and some fries at a fast food restaurant. With still 25km to go, exhausted and cold, my luck finally started to turn. The weather slowly cleared, and the cycle path along the Canal de l'Aisne à la Marne in Reims turned out to be excellent, allowing me to arrive just before dark at the campground in Val-de-Vesle.
So, word of warning: I would not recommend the route I've taken just before Reims. There have to be better ways to get to the Aisne-Marne canal.
Day 4. Val-de-Vesle - Louvemont (107km)
Starting the day in more Champagne fields and hills, riding towards the Marne valley. From there, the wind had turned to be slightly in my advantage, and my legs were starting to get used to all-day riding. The mostly paved cycle path along the Canal entre Champagne et Bourgogne was only interrupted by a broken chain in Chalons-en-Champagne and a short really bad section right before Vitry-le-François, where I ended up using a mountain bike path to avoid riding along a "Route Nationale" as much as possible. Downhill mountain biking with luggage? Fun, but not recommended ;-)
After Vitry, I had a decision to make: heavy rain was predicted for the night. I could continue along the canal to Saint Dizier and try to find a hotel, or stick to the plan and get to a campground in Louvemont. I'm glad I stuck to the plan, because the villages in the region were really beautiful. And yes, it rained all night, but I slept like a baby.
Day 5. Louvemont - Langres (108km)
In the morning, a nice "Voie Verte" lead me to Wassy, where I got some croissants and stepped into a café to get a coffee. While talking to some locals, they asked me where I was going. I couldn't immediately come up with the name "Sixt Fer à Cheval" (speaking French, before my first coffee had completely sunk in), so I mentioned the neighbouring village, Samoëns. "Mais c'est pas vrai! Nous aussi!". Turns out, they were also planning on going there, by car of course. We exchanged phone numbers and I promised to visit them if I managed to get there.
The first part of the day was hilly and rainy (rain jacket on, way too hot, rain jacket off), but the valley of La Blaise and the hills back towards the Marne river were beautiful and quiet.
Once back in the Marne valley, the weather improved a bit and I got back on the cycle path along the Canal entre Champagne et Bourgogne. The canal has a number of points where it passes over the Marne river, which was a strange sight.
Towards the end of the day, it started getting colder and rainier again, and I got my first sugar dip of the trip just 10km from my goal of the day. Luckily I still had some sandwiches left, and the final climb to the campground right on the medieval city walls with spectacular views got me back up to temperature. After putting up my tent, I went to a restaurant where I overheard some Dutch people talking about how tiresome their (car) ride it had been. Ha!
And yes, it rained all night again, but I slept like a baby.
Day 6. Langres - Dôle (108km)
Sunny day, downhill, tail wind, on quiet country roads and along the canal. 📹
Had a great lunch in Fontaine-Française, one of the many nice villages along the road. And in Pontailler-sur-Saône, at the crossroad of multiple long-distance cycle routes, had a nice chat over coffee(s) with a retired Dutch couple, who had been going on bike tours their entire life. Their children didn't want them to go camping anymore, so they're staying at B&Bs, and they're using electric bicycles, but the joy of bike touring is still the same.
Arriving in Dôle and not even be tired after 108km, I'd say that was a great day.
Day 7. Dôle - Étival (91km)
After getting my chain, chainring and cables replaced, I set off towards the Jura Mountains. A few weeks earlier, the Tour de France had passed through the same villages, so the bicycle-themed decorations made me feel very welcome. A local guy stopped his typical French panel van to check if I needed water and to talk to me about Le Tour. Amazing what this bike race means to this country.
Early in the afternoon I arrived at Poligny, at the foot of my first longer climb, which lead to a plateau, which gives the impression of a slightly hilly country side. But then suddenly at the side of the road, there's a viewpoint, which overlooks the steephead valley of the Cirque de Ladoye. Extraordinary.
After descending to the Ain valley and eating ice cream at a cozy campground (which was unfortunately too far off my goal), I ascended back out of the valley towards Clairveaux-les-Lacs. I had noticed there were quite a few campgrounds there, and my next goal (Gex) would've been at a manageable 80km. But arriving in the town, it was clear that it was overrun with (really) noisy tourists. While planning, I had searched for campgrounds a bit further down the road in the Haute Jura, but hadn't found any. Luckily, I found one on Google Maps in Étival, a 10km climb from where I was, and only slightly off my planned route. A worn-out signpost pointed me in the right direction.
The climb was nice and gradual, with the sun setting and nothing the sound of cowbells in the background. Arriving at the campground, it turned out to be closed. A few caravans were left for friends of Ginette, the retired owner, but she seemed kinda worried that the campground was still on Google Maps. I offered to remove it from the map and she let me stay, use the shower and even offered me cake and coffee in the moring. Ginette talked about how the campground was booming in the '70s, but gradually people started to want more luxury, like swimming pools, entertainment, bars etc, until nobody but a few peace seekers kept showing up. Sad to see places like this go.
Day 8. Étival - Gex (75km)
The day started off in the cloudy, quiet and mysterious Haute Jura. After a short climb, the descent to Saint-Claude, where La Bienne cut out a steep valley, made it feel like I was in the "real" mountains for the first time. It was also the first time I was really aware that forgetting my bicycle helmet (I almost never wear one in Ghent, but planned on bringing one for this trip) was kinda risky. Luckily the road was really nice and not too busy. Arriving early in Saint-Claude meant I could take some time to have an early lunch and prepare myself for the ascent out of this valley, the Col du Haute Crêt
The climb itself was quite nice, starting with nice views of Saint-Claude and ending in high pastures. The problem with sub-alpine terrain is that there's no such thing as real peaks, so pacing myself just to get to the Haute Crêt was not enough. The terrain afterwards was still hilly and it wasn't until the descent to the ski resort of Mijoux that my legs could get a real break.
From Mijoux, it was time for my last climb of the day: le col de la Faucille. The first part was on a relatively quiet road, but there was some maintenance going on, leaving the asphalt covered with some slippery gravel. Not ideal for cycling, but apparently also not for little Frech cars, you know, the ones that always race past you while driving in the mountains. One of them lost control while driving downhill towards me. Luckily the ESP system took over from the idiot driver and a crash was avoided. Don't think a helmet would've been able to save me. After a few kilometers, I got on the main road towards the Col de la Faucille, which turned out to be quite large, but not too busy + there was room for cycling (wouldn't call it a bike lane, but still).
Arriving at the top, with views of Lac Leman and the Alps in the distance was a bliss. My end goal was in sight! The descent was on an excellent asphalt road, right behind a group of English cyclists, which had a van to protect us from traffic. Perfect.
Day 9. Gex - Sixt-Fer-à-Cheval (97km)
Leaving behind the Jura, entering Switzerland, riding along Lac Leman, passing through Genève, exiting Switzerland again,... all were nice precursors to one of the most epic rides of them all.
A gravel road along the Arve river lead me to Bonneville, and a nice voie verte got me further and further in the valley leading to the foot of the climb to Châtillon-sur-Cluses, the one climb separating me from the Giffre valley, where my end goal lies. Unfortunately the road to Châtillon was really busy, so I tried to avoid it by riding a smaller road, but that one turned out to have segments of about 20% gradient, which is a bit much and I ended up walking some parts. At the top, I grabbed a quick coffee and descended towards Morillon and Samoëns. By then my sugar dip had really kicked in, so I stopped for some pancakes with an excellent view on l'Aiguille de Criou.
From Samoëns to Sixt-Fer-à-Cheval, it was a gradual climb on a fairly busy road, so I tried to avoid it again by deviating a bit, but I ended up pushing my bike up a steep gravel path to get back to the main road. After stopping by the Gorges des Tines, I got to Sixt, marvelled at the views over pizza and beer, and continued to Camping Le Pelly.
Arriving in the Cirque du Fer à Cheval, riding past the campground until the end of the road was a "yes I did it!" moment. Got to the campground, put up my tent, got a beer and watched the sun go down on the steep cliffs that surrounded me. Bliss.
Day 10. Le Bout du Monde - Saint-Jeoire
After a nice breakfast at the campground, I left my tent and luggage and went off for the last part of my plan: getting to the end of the world. From the end of the road, there's a gravel path that leads further up the valley. Most of it was perfectly doable with wide tyres, but it was clearly more suited for walking and maybe mountain biking. At the "fond de la combe", there was a fence to keep the sheep in, and the path became too steep and to rocky to continue by bike, so I left it there and continued on foot all the way to the sign that said "Le Bout du Monde".
With cliffs rising up and waterfalls coming down on all sides, and almost nobody around, it really feels like the end of the world 📹. Kinda surprising that it's at at cycling distance from home ;-)
On the way back, I started to see more people arriving. It's great that this place is easily accessible, but it also means that it's probably best to come here at quiet times: early in the morning or off-season. Camping Le Pelly is perfect for experiencing this: you don't even need to bring your own tent if you don't want to, just wake up and enjoy the beauty.
In the afternoon, I visited the people I met on day 5 somewhere in the middle of France, which was quite surreal. They invited me in for coffee, we talked about my trip, about Samoëns, about skiing in the Grand Massif area, possible routes back to Genève,... Their patience with my French was admirable!
From Samoëns, I took a different route back, camping at a small family-owned campground in Saint-Jeoire, close to the Môle. The campground was nothing special and because most of the route had been downhill, I arrived way too early so I went out for a small hike. Next time I'm staying in Sixt a bit longer! The views of a setting sun over the Grand Massif area were nice though.
Day 11. Genève - Gent
After my last breakfast in the mountains, I rode back to Genève where I met Dimitris, who was doing an even crazier bike tour than mine. Check it out! From Genève, it was smooth sailing at 300km/h on the train to Paris.
Unfortunately there was a bit of a delay when entering Paris and I didn't arrive at the same station where I had to leave for Arras, so the race was on: without knowing the city, its crazy traffic and its crappy bicycle infrastructure (seriously, a bike lane in the middle of the road?), would I make it in time? Luckily I did, with 10 minutes to spare, because at the train station, there was some discussion going on: some trains got cancelled, people wanted to get on the train with their bicycles without reservation etc,... but at the very last minute, they got kicked off and I could get on my way to Arras.
In Arras, I had some time to cycle around looking for a good place to have a quick dinner, but the town square was quite busy so I ended up eating just across the train station anyway. From there, I took the local train to Lille, waited some more, and then the local train back to Ghent.
Getting back in 1 day, for what took me 8 days by bicycle really made me appreciate the amount of energy our modern ways of transportation actually take. Apart from the slight delay and waiting periods, the train is so much more relaxing than travelling by plane or by car. It's just unfortunate that it's so expensive.
The End
All in all, I cycled about 1000km without much preparation. I'm used to cycling short distances, but it's amazing how quick your body adapts. The weather was far from ideal the first half of the trip, but the journey made it totally worth it. I cycled through regions you usually quickly pass by on the highway, met lots of friendly people,... It's like the retired couple in Pontailler-sur-Saône said: it's difficult to quit once you get hooked on bike touring.
I'm already thinking where to go next.